Welcome!
203 Long St. Jefferson, NC 352-210-9477
Appointments Available Tuesday through Saturday
Book your massage online by clicking the BOOK NOW button on the Hours and Scheduling page
Free Essential Oils Seminar
Safe and Effective Use for Family Health and Wellness
Focus: Flu Prevention and Recovery with Essential Oils
Free Seminar Presented by Elizabeth Mills, Aromatherapist, NC Licensed Massage Therapist
Learn how to safely and effectively support your family's well being using natural essential oils:
Recommended essential oils and aromatherapy blends for personal/family use

Proper methods of inhalation, diffusion and topical application

Safe and effective dilution ratios for multiple applications

Identification of quality oils vs. diluted/synthetic products

Proper storage guidelines

Flu prevention and recovery support using essential oils

Much more!
Free Essential Oils Seminar
Saturday, March 3, 2018
12:30pm
Full Moon Massage and Wellness
203 Long St. Jefferson, NC
RSVP to receive a FREE SAMPLE of the Top 10 Anti-viral/anti-bacterial Essential Oils Blend*
Please RSVP and attend the seminar
*Bonus: Includes an extra oil reported to specifically target the current H3N2 flu virus
RSVP: Text 352-210-9477 or email lizmmills@massagetherapy.com
Available for Sampling and Purchase:
100% Therapeutic Grade Essential Oils
From
Artisan Aromatics
A Local Western NC Company
Gift Certificates available from my office (call ahead) OR order, pay and print or email instant gift certificates by clicking the BOOK NOW button on the Hours and Scheduling page.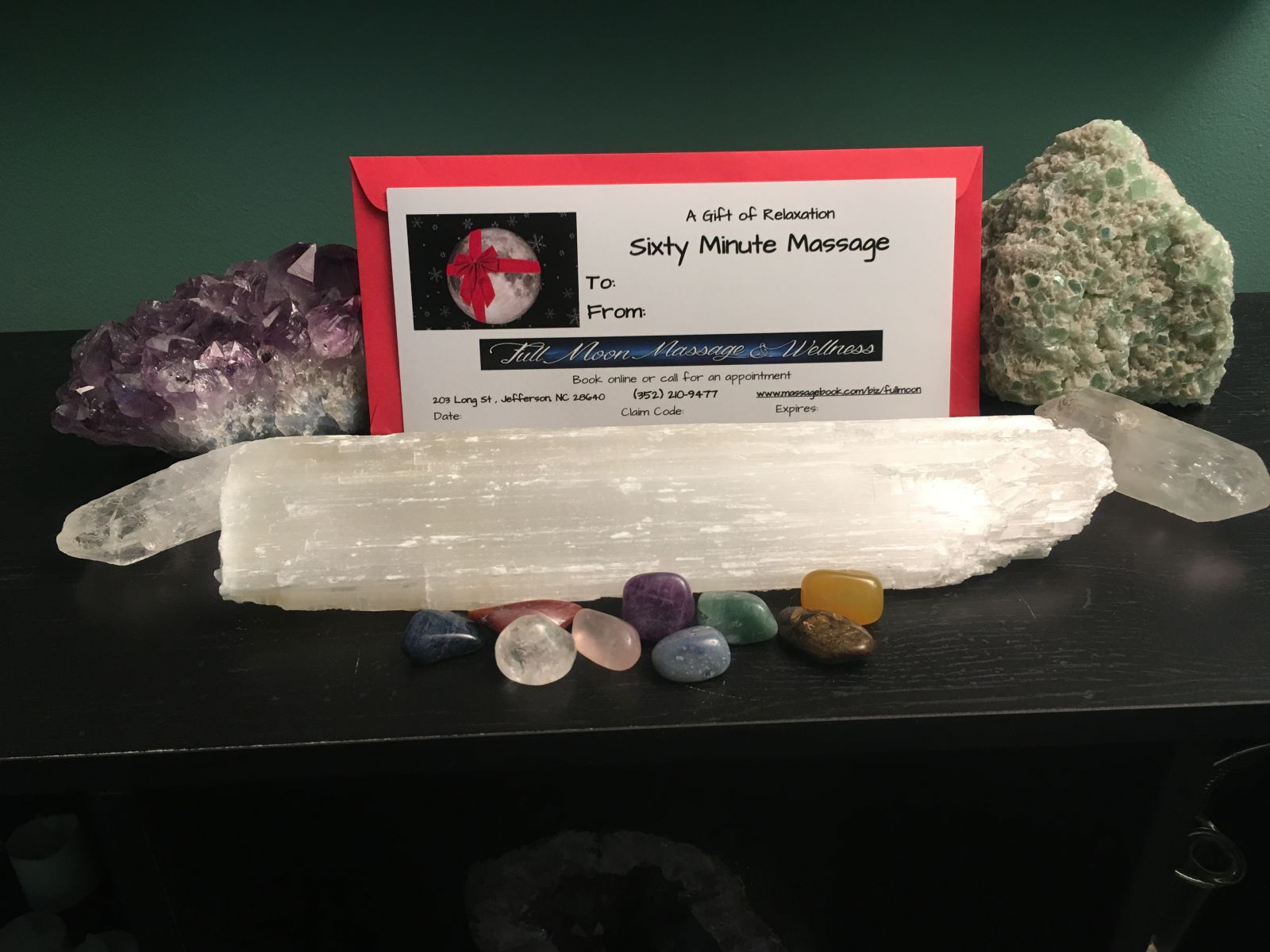 Now Available for Purchase
Superior quality essential oils from a local Western NC business. These oils are conscientiously sourced from their farm outside Asheville and around the world.

Therapeutic grade essential oil blends and single oils for sale, including Ready-to-Go inhalers with a variety of blends to support your health and well-being for $6. A great introduction to the many benefits of aromatherapy.
Now Offering
Elder Care and Palliative Care Massage
This service is based on a method called Comfort Touch and the techniques are appropriate for any individual for whom traditional massage might cause pain, injury or discomfort.
Those best served by this approach include persons of all ages who are medically fragile, who may have experienced trauma, who have significant mobility restrictions or anyone in need of gentle touch. It was developed for use with hospice recipients and is designed to promote deep relaxation and pain relief.
Elder Care and Palliative Care Massage is designed to be offered in all living situations.
I am offering this service at my practice in Jefferson and am available to travel throughout the High Country to hospitals, nursing homes, hospice care centers, assisted-living centers and senior centers in addition to being available for home visits. No special equipment is needed and the massage can be performed without having to undress or change positions.
I am available to contract with healthcare providers as well as offering individual services. Individual rates for this service are the same as therapeutic massage (mileage fees apply). Contract rates may be lower.
Let go of the tension in your muscles; release the restrictions in your joints, free the circulation of blood, lymph and vital energy, enable your body, mind and spirit to restore itself towards balance.
These are the intentions held in place throughout your therapeutic massage service at Full Moon Massage and Wellness.
Elizabeth Mills has the skill, experience and compassion to support you in allowing your body to open to the power of self-healing and to regain wellbeing through a balanced body. At Full Moon Massage and Wellness, Elizabeth works with her clients to co-create a personalized treatment plan and offers 60, 90 or 120 minute fully customized massage services in a soothing, relaxing environment. The ease and convenience of 30 minute express massage is also available.